You've likely tried warm lemon water in the morning but you've likely never tried it quite like this…
I am a simple man and live a minimalistic life; however, I do small things with big love. Warm lemon water is fantastic because it's simple and comes fully loaded with an array of health benefits:
Detoxifies
Purifies and beautifies the skin
Stimulates healthy digestion
Hydrates the cells
Provides nourishment for the adrenals
Energizes without stimulating
Tastes wonderful
These are all great reasons to start your day off with warm lemon water. Because of my creative, alchemy nature I have taken this simple breakfast tonic and turned it into something majestical.
The good news is the recipe is still very simple. With just a few added ingredients you can have a drink that is truly medicinal and healing. I add only 4 ingredients that take this drink from healthy nourishment to holistic medicine.
If you're like me and strive for optimal living then this recipe twist might be exactly what you're looking for to start off your day with inspiration.
Ginger-Lemon-Turmeric Tonic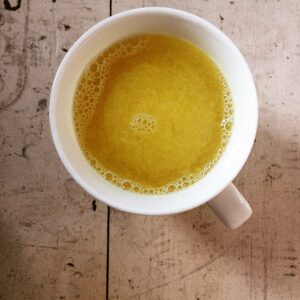 Here are the ingredients I add to my warm lemon water to take it from great to optimal and why:
Hopefully you need no further explanation as to why these real food ingredients are so essential to consume. On to the recipe…
Here's what you'll need:
1 cup of warm spring water (I use one of these fancy, convenient water kettles that boil water in seconds!)
1 tbsp Bragg's Raw Apple Cider Vinegar
1 lemon
1 inch grated ginger
1 tbsp organic Turmeric Powder
1 pinch of REAL Sea Salt
Stevia to sweeten *optional
Here's how you make it:
Warm 1 cup of spring water in kettle (I don't like to boil it as it gets too hot, so I stop it just before a boil. This way it doesn't heat the ingredients too hot either and destroy enzymes).
Grate fresh ginger (1 inch) onto plate.
Cut and juice 1 lemon.
When water is done boiling – take the grated ginger in hand and squeeze it over a mesh strainer into the warm water. This is much more effective than any juicer, as it squeezes the ginger dry getting the most juice and is even quicker than running an masticating juicer and having to clean it.
Squeeze lemon into water through strainer to avoid getting seeds into the water.
Add ACV, a pinch of sea salt then a few drops of stevia to taste if you'd like.
Stir everything together with a spoon or whisk and enjoy on an empty stomach first thing in the morning for a hydrating, energizing medicinal drink!
What are some of your favorite breakfast drinks? I'd love to hear and give them a try!